My name is Gabrielle Enns. Myself, my husband Joshua, and our two little girls Jade and Sage, live in a home located in Visalia, CA (which is the same location as my place of business). I was born and raised in Benicia, CA as the youngest of a total of seven children. Ever since I can remember, I have had a passion for animals. I consider myself as being blessed considering that I have been able to experience the joy from owning so many kinds of animals throughout the years.

I currently still have our first Great Dane Pebbles. She is an indoor dog and she has the most amazing personality. She is so good with our children. They hold up to their name as being, "gentle giants". You know what they say about Great Danes? "Great Danes are like potato chips, you can't just have one." All of my Danes are great around children, cats and horses. They are all fed a great quality diet and are always kept up on their routine veterinary visits. None of my dogs are raised in kennels!! I DO believe in kenneling only for safety purposes when no one is home and the kennel should be sized accordingly!!

I am so glad you visited my website. I hope I have helped you find what you are looking for. Good luck in your journey while finding your future over-sized family member (hopefully, it ends here).

Love,

Dane Gone Crazy (The Enns Family)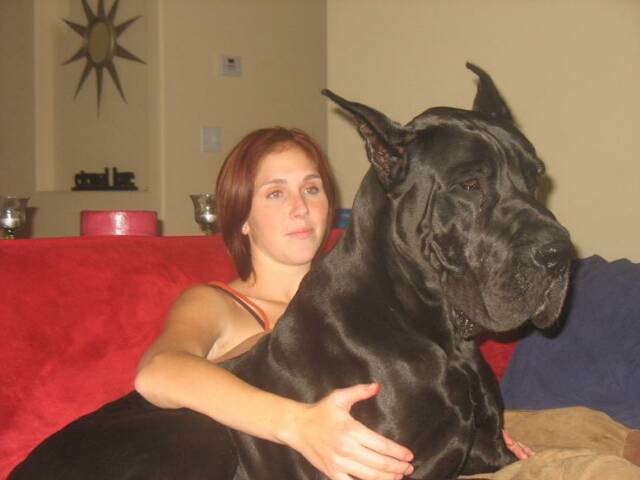 I've always known that my career or hobbies would involve working with animals in some way. In the past, I used to volunteer for various animal shelters. After spending a few years volunteering, I obtained my first job at a pet food store at the age of 16. Shortly after earning that position I landed a job at a local Veterinary Clinic where they trained me to be a Veterinary Technician Assistant. After 2 1/2 years I transferred to a Veterinary clinic in Visalia, CA, where I spent an additional 2 1/2 years working as a Veterinary Technician Assistant. I am currently enrolled in Penn Foster State's online education program and I am on my way to earning a degree to become a licensed Veterinary Technician. In the time spent over the next two years earning this degree I plan to continue my Great Dane breeding business.

After becoming pregnant with my first child I made the decision to be a stay-at-home Mom so that I could focus on raising my daughter myself instead of placing her in child care during work hours. Even though I loved working in veterinary offices I knew that along with the arrival of my first born daughter came personal sacrifices including giving up my beloved job as a Veterinary Technician Assistant, in order to fulfill the job of being a Mom successfully.

Even though I had decided to be a stay-at-home mom, my husband and I felt that if I could find a way to earn income from our home, both the financial and personal needs of our family would be achieved. At first, I tried doing marketing over the computer but my heart just wasn't in it. I wasn't happy and I knew that something had to change soon. I began researching Great Danes prior to purchasing my first one in 2005. Having fallen in love with the breed upon first sight of my new puppy, my husband and I decided to start breeding our Great Dane.

Our first litter was a beautiful and healthy litter of ten which arrived in August of 2007. They were all raised indoors until they reached five weeks of age before it became absolutely ridiculous to try and keep everything neat and tidy as they grew. All of the puppies were vaccinated, de-wormed and taken to the vet regularly on schedule. I fed them great quality food and raised them in a loving, clean environment. Then the worst thing possible happened; all of the puppies came down with the
Parvo Virus
. I couldn't believe something like this could've happened, considering the high level quality of their care. At this time in my life/career I was pregnant with my second child and was literally due to be in labor. I immediately took all of the puppies to the vet where they were hospitalized. Unfortunately, only four of my precious puppies survived that devastating, stressful, and emotional week. It's still hard for me to conceive the possibility and reality of losing my first litter. Even though I know that I did everything right in caring for the puppies I still have a hard time accepting that I almost lost all of them to a virus.The four puppies that made it were actually the four largest puppies of the litter. I was thankful for there being at least four to survive and to have been able to find all of them great, loving and caring new owners. The day that my four puppies recovered from Parvo was the day my water broke and I was going to the hospital to have my second child. Thank you god! He knew I couldn't leave my babies to have a baby of my own until the ones which survived got better.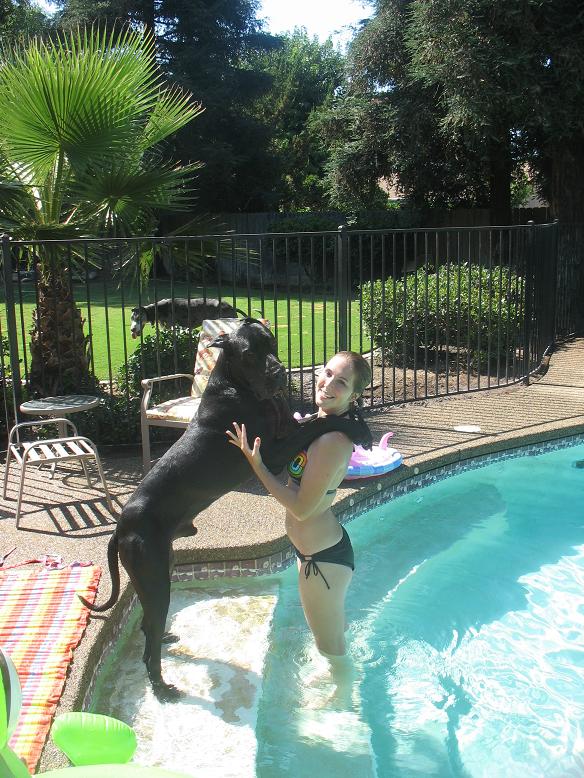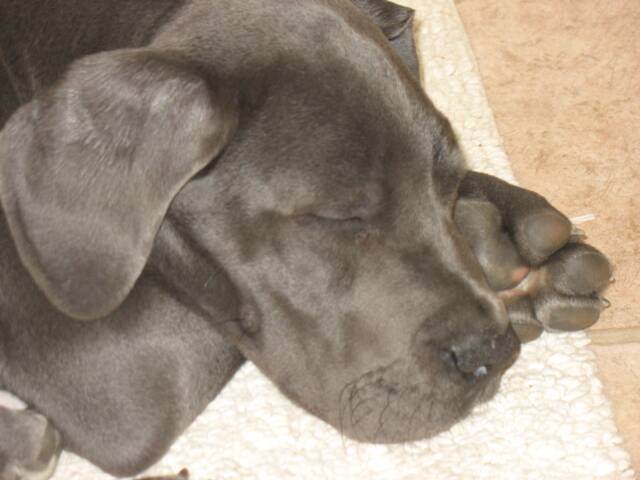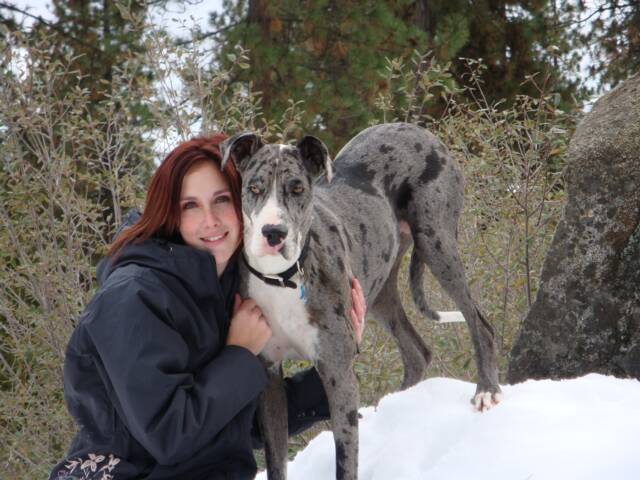 Since the Parvo infected litter I have had four (total), happy, healthy litters from two different females. Each litter has been a positive learning experience in which something new is always learned. I feel once you stop learning then you don't care anymore. I am always contacting other breeders to find out what their personal training, feeding and raising methods are in the Great Dane breeding business. Some are good and some not so good to say the least. If you think that I don't offer exactly what you are looking for I would be glad to refer you to another reputable breeder.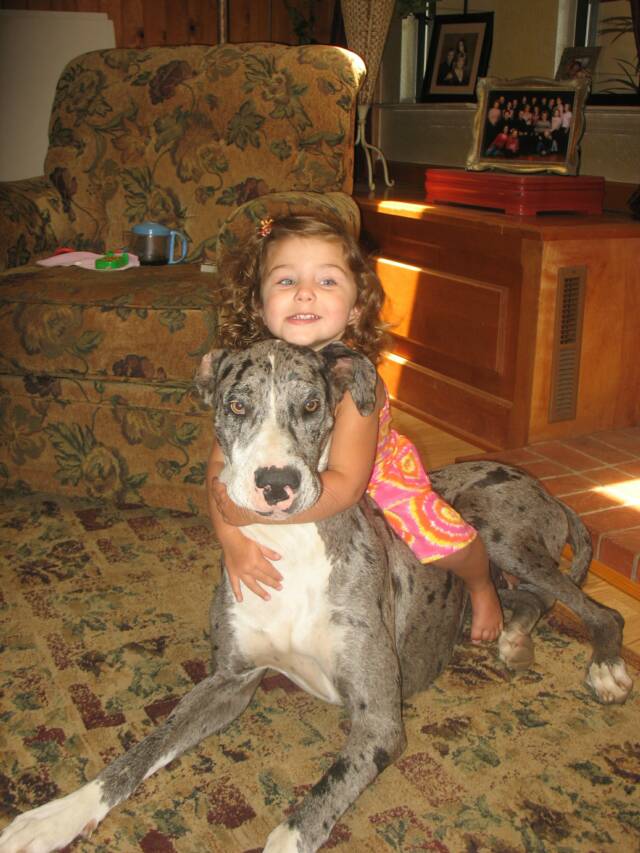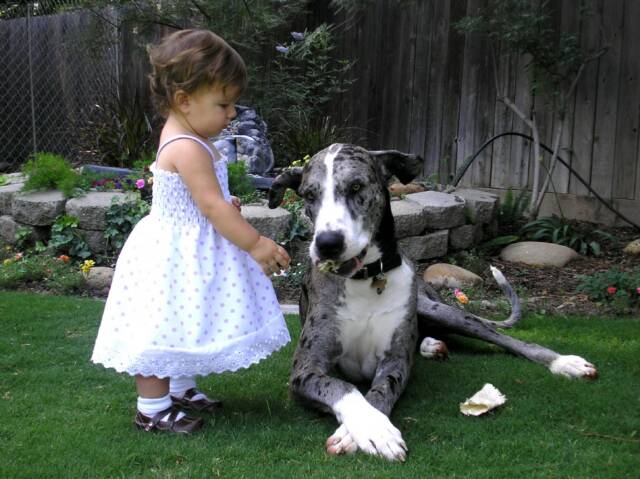 © 2010 Dane Gone Crazy  ::  All Rights Reserved  ::  site designed by