Hi Gabrielle;

Just wanted you to know, that we have been so happy, with our new baby. Her name is Riley, and I swear, she has grown, since we picked her up, last Saturday. Dr. Carr thinks she is beautiful. Duh! She says she is in great shape, and the perfect size for her age. She weighed 23 lbs. at 9 1/2 weeks. I have to tell you, it's funny to watch her play outside. She will play with our little dog and Riley goes into "stealth mode", and tries to sneak up on her. Chasing each other, in the living room is a hoot, too. She went under the rungs of the dining room chair, and had about a 1/4 inch clearance., but she made it!! Purchased the crate, yesterday, and she slept in it last night. Thank you again, we couldn't be happier.

Jim and Deanna (and Riley)

Hi Gabby,

I took Lilly to the Vet. They said she looks great. She weighed 26 pounds already!!!! She is such sweetheart. I am going to go ahead and get her immunizations at the vet because I get all their flea meds there also my neighbor works there too. Talk to you soon.

Lori

Gabrielle,

Everything went well at the vet and he is a healthy little 19 pound boy! He has been great at home as well. The first night he was so tuckered out from getting familiar with his new surroundings he slept straight through the night. He has not had a single accident in the house and is even learning to paw at our slider door when he needs to go outside. He seems to be adjusting well and we are making sure the transition goes as smooth as possible for him! I have taken tons of photos since we picked him up and I will send you some photos soon! Crosby has stolen our hearts and we just can't thank you enough. We love him! Thank you,

Kelli

Hey Gabrielle!

Tatum is doing great! She is my pride and joy and she hardly ever leaves my side.She is definitely the queen of this household..haha. She loves to play and cuddle. She's getting big, about 90 lbs right now. She's so beautiful and people stop to compliment her everywhere we go. She has a feisty personality, but is so gentle at the same time. She loves kids and is so good with my older sister's new born baby. She is so perfect for me and I still cannot thank you enough for her!

Kati

Oh my goodness, those are the most precious puppies! I will see if any of my friends want a puppy... and I would let them know that they would have to go through you if they wanted a Great Dane because I have never seen anyone put more heart into what they do than you :) I cant even tell you how much your hard work was worth it because Tatum is truly the best thing that has ever happened to me.. and I could never thank you enough... ever.

Kati

Gabby,

I wanted to give you an update on how Lucky is. She is doing wonderful! Samson and her are still doing really great together. I still need to send you pictures of her and Samson together. Thank you for everything you did with her. She is a wonderful dog. You will always be her first Mama!

Jamie

Just thought I'd share a little of Bella - she is awesome..... I took her to the vet today just to weigh her - 5 mos old, 83 pounds. She has a blast playing in the bathtub! She's in Puppy Kindergarten, but isn't doing so well. She does better when it's just her and me. When there's a whole bunch of other people and dogs, she's so distracted and wants to play with everybody, well you get it. She loves the dog park, and long walks around the neighborhood. Later,

Sheree

Hello Gabby,

I took Mia for her next set of vaccines today and everything went great. She now weighs 34 pounds and we are having the best time with her. I hope you and your family are doing wonderful and I really appreciate all your help. Sincerely,

Joe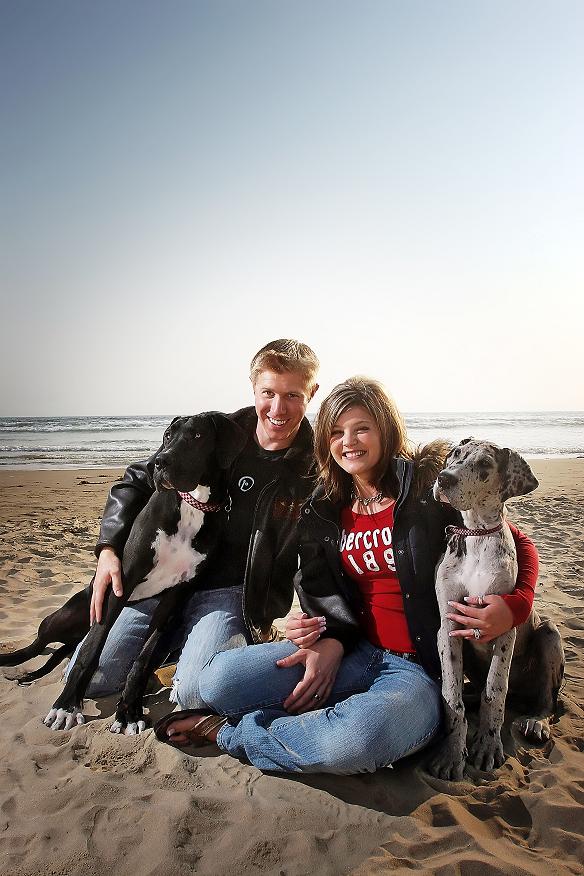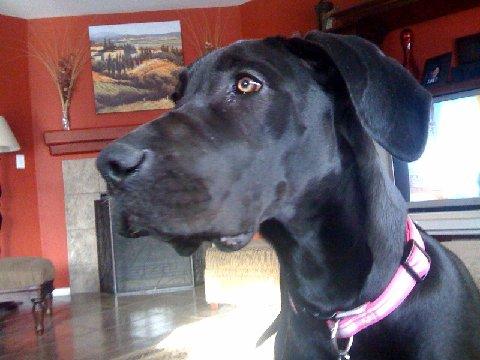 Hi Gabby,

I just wanted to write you with the latest update on Lilly. As you know she is 5 1/2 months old now and we couldn't be happier with her. She is such a kind natured, mellow puppy. It's been great. Last week at the vet she weighed in at 71 pounds and just got her last set of shots. She has been such a wonderful addition to our family. The kids and I all adore her. You know, our sons have autism and

she is so great with them. She is very playful yet gentle and loves to follow them around the house and yard. She is such a people person dog! She thinks she is a lap dog. I don't think she realizes how big she really is yet. She is also so smart. She can now sit, stay, jump up high, shake, and speak! Her favorite teaching treat is cheese! Luckily, she hasn't chewed anything up in our backyard or dug any holes. She is very content with all her doggie

toys and her favorite bully sticks to chew up. We are so glad we found you here locally. It must have been meant to be. I don't know who got luckier; Lilly for getting us or us for getting her. She has brought real joy to our family as our newest member. I just received her AKC certificate back from the American Kennel Club. Her official name is Lillyannas MollyClaire after the twins!! You know, I will be back to see you when we are ready for our next dog. Thanks so much and keep in touch.

Lori

We purchased Calpurnia (female, merle) from Gabrielle Enns back in April, 2008, and what a positive addition she has made to our family! We already had one other Great Dane and were looking to extend the family, while looking for a local breeder. We asked questions and received helpful, knowledgeable, and friendly advice from the Enns. We were also encouraged to keep in touch in case we had further questions or concerns. Gabrielle's puppies, dam, and sire are show quality and come with a full health guarantee. "Callie" has been extremely healthy and active! Gabrielle provided us with everything we needed to succeed with our puppy and more! Callie has been a major part of our lives and continues to impress us. She has exemplary behavior and has started doing pet therapy in nursing homes. She has been on vacation with us multiple times and has even had professional pictures taken (and behaved so well, figure that). Every day we feel so blessed to have found such a wonderful canine

companion! We thank and appreciate Gabrielle's dedication to not only us but to the breed! Her commitment and level of care to her animals is like no other. It shows with the quality of animals she produces! Take Care!

Jodi

© 2010 Dane Gone Crazy  ::  All Rights Reserved  ::  site designed by